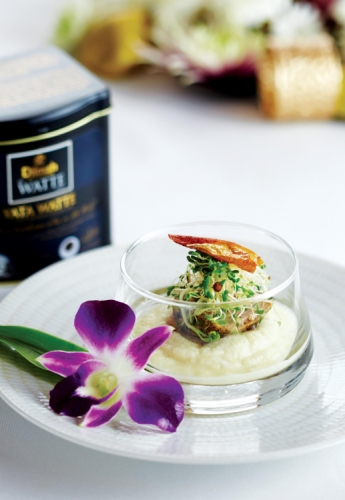 Food : Main Courses
TEA-SMOKED TUNA
Ingredients
• 400g Tuna Loin, frozen
• 10g Yata Watte Tea Leaves
• 200g Cauliflower
• 100ml Milk
• 50ml Cream
• 100g Mascarpone
• 5g Sea Salt
• 1g White Pepper, freshly ground
• 50ml Avocado Oil
• Micro Greens and Sundried Tomatoes for 
Garnishing
Method
Season tuna loin with a little salt and white 

pepper and sear in hot non-stick pan.

Place tea leaves in a square roasting tray and 

put on high heat, place tuna on wire rack and 

cover with lid.

Smoke for a few minutes, remove from tray 

and allow to cool down before slicing.

Bring milk to the boil, add cauliflower and 

simmer until soft, drain milk and add cream.

Place in blender and mix until smooth, remove 

from blender and allow to cool down. Fold in 

the mascarpone and season to taste.

Arrange all components on plate and drizzle 

with avocado oil. Garnish with micro greens 

and sundried tomatoes before serving.
The range of Dilmah Tea used
Dilmah Watte Boutique Tea
The variety of Dilmah Tea used in the recipe
Created by : Arie Yulianto