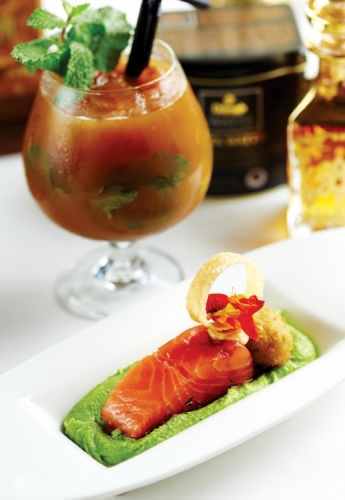 Drink : Mocktails/Iced Tea
YATA WATTE MOJITO
Ingredients
• 120ml Yata Watte Tea (4 tsp. brewed for 5 mins 
in 1L of hot water)
• 30ml Remy Martin Cognac
• 30ml Captain Morgan Rum
• 30ml Sugar syrup
• Mint Leaves and Lime Wedges, as needed
• Crushed Ice
Method
Pour the Remy Martin and Capt. Morgan into a 

heat-proof container and light on fire.

Leave until the aroma and flavour of the liquors 

are extracted and the quantity has slightly 

reduced.

In a glass, muddle the mint together with lime 

wedges and sugar syrup.

Add crushed ice and liquors and stir until 

blended.

Add more crushed ice and the Yata Watte tea.

Garnish with a lime wedge and mint leaves. 

Serve.
The range of Dilmah Tea used
Dilmah Watte Boutique Tea
The variety of Dilmah Tea used in the recipe
Created by : Lloyd Aleta