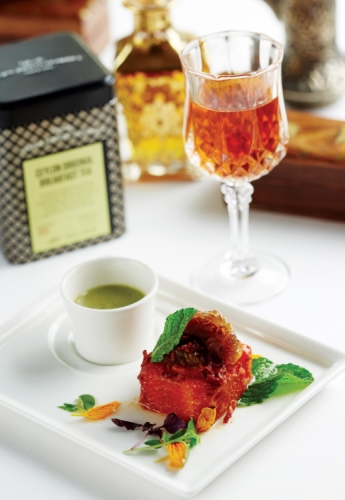 Food : Main Courses
WATERMELON TANDOORI
IngredientsIngredients for Watermelon Marinade
200g Watermelon, cut into large chunks
200g Yoghurt
1 tsp. Turmeric
1 tsp. Coriander Powder
10g Garlic and ginger
1 tsp. Cumin
50g Mustard Oil
1 tsp. Methi Powder
Ingredients for Chicken And Pistachio Mince
200g Mince chicken
10ml Cream
40g Pistachios, crushed
1g Curry Leaves, chopped
100g Dried Apricots, chopped
100g Prunes, chopped
150g Breadcrumbs
Ingredients for Onion Marmalade
150g Red Onion, sliced
20g Sugar
30g Unsalted Butter,
10ml Balsamic Vinegar
75ml Dry Red Wine
Salt to taste
1g Cardamom Powder
Method
Marinate the watermelon pieces for 30 minutes.
In a separate bowl mix together the chicken and pistachio mince ingredients.
Steam the mixture and stuff into the top of the watermelon pieces.
Serve with the onion marmalade made by cooking and reducing all ingredients together.
You can also dress the dish in mint chutney.
Created by : Lloyd Aleta