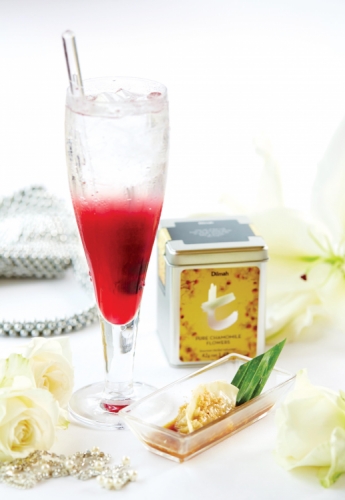 Drink : Mocktails/Iced Tea
VIOLET MILES
Ingredients
2g Dilmah t-Series Pure Chamomile Flowers

110ml cold water

15ml lemon juice

30ml blueberry homemade syrup

1 can soda water

A sprig of rosemary
Method
Do a cold brew with chamomile flowers overnight and then fine strain to make sure there is no pulp in the tea. Use 110ml cold water for the cold brew.

Pour cold tea into a mocktail glass, add lemon juice and blueberry homemade syrup. Stir to blend. Place an ice cube in the glass and top up with soda.

For garnish and aroma, place a sprig of rosemary.
Glassware
Mocktail glass / Collins glass

The range of Dilmah Tea used

Dilmah t-Series Designer Gourmet Teas

The variety of Dilmah Tea used in the recipe

t-Series Pure Chamomile Flowers

Created by : Fandy Wijaya Adi