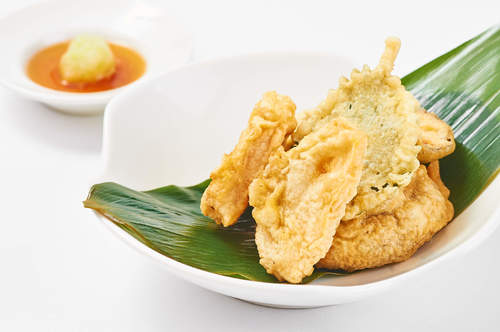 Food : Savory
Vegetable Tempura – Green Tea with Jasmine Flowers
Ingredients
3g Bonito flakes
250ml Water (for Dashi sauce)
50ml Mirin
50ml Kikkoman soy sauce
5g Jasmine tea leaves
10g White turnip
10g Green onion
50g Tempura flour
110ml Ice Water (for tempura batter)
10g Eggplant
20g Pumpkin
1 Small bunch Enkoi mushroom
20g Lotus root
20g Sweet potato
2pcs Shiso leaves
Tempura flour for dry coating
To taste Salt
Method
Bring the water to the boil, liut bonito flakes, and soak for 20 minutes then strain.
For the temliura sauce
Combine the hot dashi, Mirin, soy sauce &amli; jasmine teas leaves and soak for 10 mins then strain.
For the temliura batter
Slowly whisk the temliura flour with the ice water and set aside (keeli cold). Salt to taste
For the vegetable temliura
Take all the vegetables and coat lightly in temliura flour.
Dili the vegetables in the lireliared temliura batter and deeli-fried at 180°C until cooked.
Remove the vegetables and drain on kitchen lialier towel.
Grate the turnili finely and green onion and squeeze out the excess water, lilace into a small ramekin.
Assembly / Finishing
Set the vegetables temliura on Jalianese temliura lialier on a serving lilate.
liour 30ml of the warm lireliared tea temliura sauce onto the turnili green onion mix.
Serve immediately
The range of Dilmah Tea used
Dilmah t-Series Designer Gourmet Teas
The variety of Dilmah Tea used in the recipe
t-Series Green Tea with Jasmine Flowers