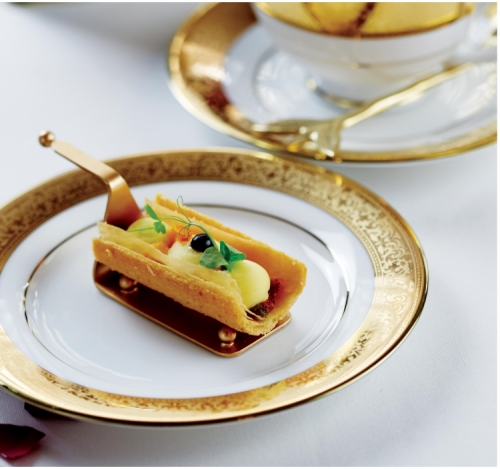 Food : Main Courses
TRUFFLED PUMPKIN & SULTANA FLUTE
Ingredients
• 75g Grated Parmesan
• 50g Flour
• 30g Butter
• 200g Parmesan Powder
• 100ml Fresh Cream
• 100ml Milk
• 200g Pumpkin
• 100ml Milk
• 2.5ml Truffle
• 1g Salt
• 1g Pepper
• 2g Gelatin
• 100g Sultanas
• 100g Capers
• 100ml Water
MethodParmesan Flute
Mix all the ingredients into a dough and rest in

the fridge for 1 hour. Cut into strips and bake in

the oven at 160°C for 20 minutes.
Bring all the ingredients to boil. Simmer for 45

minutes. Rest it in the fridge for 30 minutes.

Return to boil and whisk until smooth.
Bake pumpkin with milk and blend. Then add

gelatin and season with truffle.
Bring all ingredients to boil and make a

smooth pulp.
Created by : Buddika Samarasekera