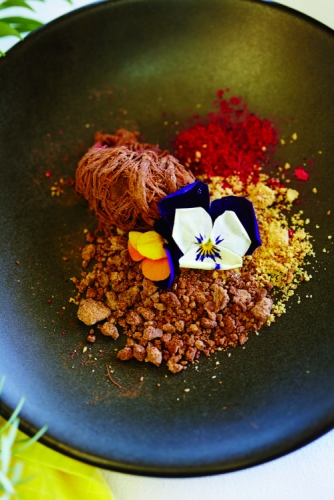 Food : Main Courses
TRUFFLED DRAGON'S BEARD
IngredientsTruffles
700g dark chocolate
700ml cream
5 tsp Dilmah Italian Almond Tea
150g glucose
100g butter
Dragon's Beard
200g sugar
50g glucose
200ml water
Cornflour
Cocoa powder
MethodTruffles
Infuse cream with tea for 10 minutes. Strain and only use 400ml of the cream.
Add glucose and bring to a boil.
Pour over the chocolate and butter and blend until smooth.
Chill and roll into balls.
Cover with tempered choc and roll in cocoa powder.
Dragon's Beard
Boil to 123C.
Cool, then pull in cornflour and cocoa.
The range of Dilmah Tea used
The variety of Dilmah Tea used in the recipe
Exceptional Italian Almond Tea
Created by : Mitchell Grady