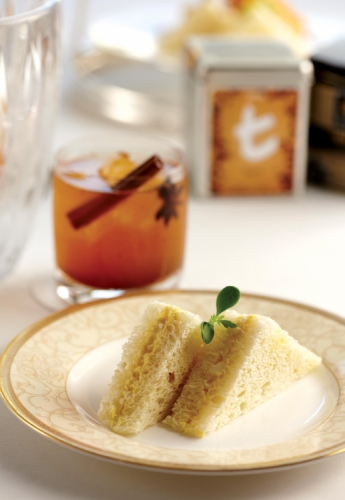 Food : Appetisers
TRUFFLE EGG SANDWICH
Ingredients
10 quail eggs

4 eggs (large)

4 tbsp mayonnaise

1/2 cup minced onion

1 tbsp fine diced celery

4-5 drops Tabasco

1 1/2 tsp lemon juice

1 tsp truffle oil

Salt, to taste

White pepper, to taste
Method
Boil the eggs respectively to hard boiled stage. Chop the onion and celery and keep it ready for the egg mix.

In a mixing bowl take mayonnaise, minced onion, celery, Tabasco, lemon juice, salt and pepper. Mix it well.

Once the eggs are done shock in ice and start peeling. Once peeled roughly chop them and then with the back of the fork mash them up with some seasoning keeping in mind the mix already has seasoning.

Mix the eggs with the mayonnaise mix and add truffle oil. Check for seasoning.

Lay the bread flat open and spread the egg mix evenly and close it with another slice. Trim the edges off and give it the desired shape.
Created by : Tiffany Qidan Zhang