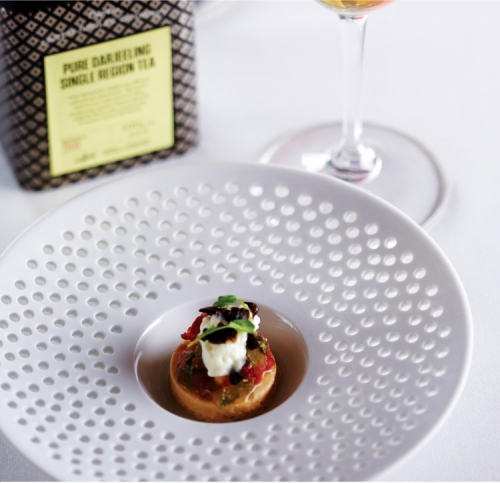 Food : Main Courses
THE TOMATO
IngredientsTomatoes Royale
0.2kg Dry Tomatoes
½ Litres Milk
¼ Litres Cream
7Pcs Eggs
Tomatoes Tartare
0.15kg Roma Tomatoes
0.05kg Shallots
3 Pcs Cornichons
4 Basil Leaves
Oil olive to taste
Salt to taste
Pepper to taste
Piment d'Espelette to taste
Capers as needed
Tomato Sorbet
270ml Water
210g Sugar
30g Glucose
1l Tomato Juice
Lemon Juice, as needed
Pepper, as needed
Balsamic vinegar, as needed
Basil Tips, as needed
Mozzarella Espuma
0.125kg Buffalo Mozzarella
0.2 Litres Cream
0.17 Litres Milk
½ Bottle Basil, dried
MethodTomatoes Royale
Mix the dried tomatoes with milk, cream and eggs. Cook in steam oven at 85°C for 6 min.
Tomatoes Tartare
Cut the tomatoes. Add some oil olive, basil, white balsamic vinegar, shallot, capers and other ingredients. Keep it for 24 hours in the fridge before use.
Tomato Sorbet
Make your tomato juice and cook it at 40°C. Add all of your powder and lemon juice to 60°C. Keep it frozen for 24 hours.
Mozzarella Espuma
Cook the milk with the cream, mozzarella and basil for 5 mins. Mix and filter. Put in syphon. Keep it for 24 hours before serving.
Created by : Pierre Jean Arpurt