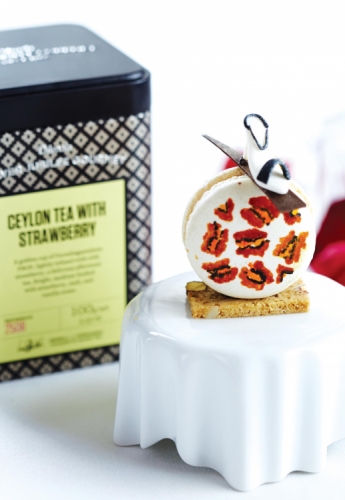 Food : Appetisers
THE SWEET WHISPER
IngredientsMacaroons
250g Almond Powder
250g Icing Sugar
80g Egg White
225g Castor Sugar
60g Water
60g Egg Whites
Strawberry Filling
200g White Chocolate
350ml Fresh Cream
125ml Dilmah Ceylon Tea with strawberry
5g Gelatin
MethodMacaroons
Mix almond powder, icing sugar and egg white to a paste and set aside.
Cook castor sugar and water to 121°C and transfer the paste to a mixer with a whisk attachment.
Pour in egg whites and slowly beat like an Italian meringue.
Mix meringue with almond paste till it forms a smooth texture.
Pipe onto a baking tray and bake at 140°C for 20 minutes.
Strawberry Filling
In a pan, place fresh cream and boil over medium heat. When it starts to boil add Ceylon Strawberry Tea and infuse for a while. Next add in the chopped white chocolate and melt it as a ganache. Once melted add in the gelatin and mix well till dissolved and take off from heat.
The range of Dilmah Tea used
Dilmah Silver Jubilee Gourmet
The variety of Dilmah Tea used in the recipe
Silver Jubilee Ceylon Tea With Strawberry
Created by : Buddika Samarasekera