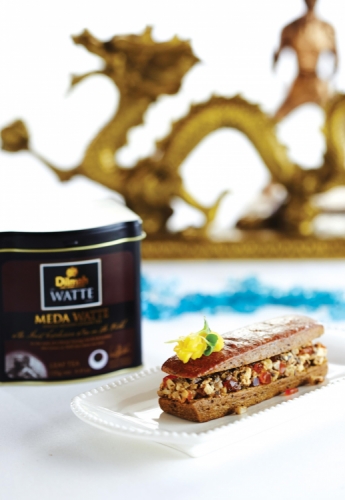 Food : Main Courses
THE MEDA WATTE SANDWICH
IngredientsIngredients For Meda Watte Tea Bread Dough
375g Bread Flour
187g Cake Flour
13g Salt
4g Sea Salt
18g Sugar
250g Milk
2 Eggs
25g Fresh Yeast
187g Butter, room temperature
15g Meda Watte Tea, finely chopped
Ingredients For Filling
25g Mushrooms, cooked
60g Chicken Breast, cooked
20g Mayonnaise
2g Meda Watte Tea
Salt and Pepper
Method
Chop the cooked mushrooms and chicken breast into small dice. Add in the mayonnaise, salt and pepper, save the mixture for later use.
Dissolve the fresh yeast with milk.
Knead together the fresh yeast, flour, eggs, tea and milk; mix on low speed for 5 minutes and fast speed for 6 minutes.
Add salt, sugar and butter and knead for 2 minutes. Rest on the table for 1 hour.
Cut into rectangles of 2cm x 10cm. Leave the dough to rise in a proofing cabinet for 30 minutes.
Preheat the oven to 220°C and bake for 15 minutes.
Cut the Yata Watte tea bread in half and fill with the mushroom and chicken mayonnaise.
The range of Dilmah Tea used
Dilmah Watte Boutique Tea
The variety of Dilmah Tea used in the recipe
Created by : Ng Wai Kee