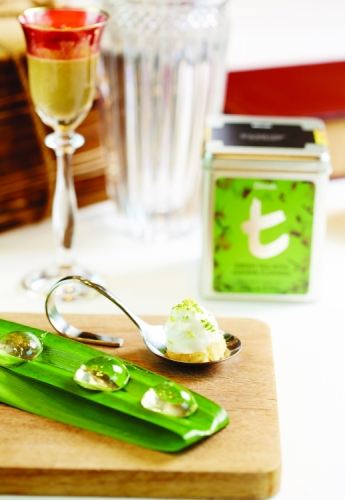 Drink : Mocktails/Iced Tea
THE BEGINNING
Ingredients
30ml homemade Pandan syrup
120ml Dilmah Green Tea with Jasmine Flowers
Pandan Syrup
30g Pandan leaves
100ml water
200ml fine white sugar
Jasmine Green Tea
4g Dilmah Green Tea with Jasmine Flowers
220ml spring water
Method
Measure in all ingredients into a Perlini (pressurized carbonating cocktail shaker). Add ice and seal Perlini.
Charge with carbon dioxide. Shake hard to ensure a thorough infusion of carbonation and cold temperature.
Rest for 30 seconds. Release seal and pour into vintage wine glasses.
Pandan Syrup
Measure Pandan leaves and water into vacuum bags and seal. Cook in sous-vide for 2 hours at 52°C. Strain mixture and stir in sugar.
Jasmine Green Tea
Brew Dilmah Green Tea with Jasmine Flowers loose leaf tea in spring water just off the boil, for 3 minutes.
Allow to cool overnight
The range of Dilmah Tea used
Dilmah t-Series Designer Gourmet Teas
The variety of Dilmah Tea used in the recipe
t-Series Green Tea with Jasmine Flowers
Created by : Anne Cheng