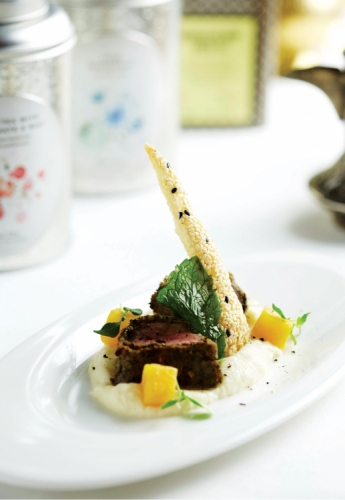 Food : Main Courses
TEA-INSPIRED LAMB LOIN
IngredientsLamb Loin
200g Lamb Loin
2g Moroccan Mint Tea, brewed
1g Peppermint Tea, brewed
100g Breadcrumbs
2g Egg Whites, beaten
Cauliflower Puree
150g Cauliflower, chopped
30g Garlic, crushed
50ml Milk
60g Butter
Honey Glazed Pumpkin
60g Pumpkin, cut into chunks
1g Butter, melted
3tsp. Honey
Lamb Jus
Roast Lamb Bone & Trimmings
30g Celery
100g Onions
100g Tomatoes
10g Flour
Water
MethodLamb Loin
Sous-vide Lamb loin marinated with Dilmah Moroccan tea and with Dilmah peppermint tea. Once done, coat in egg whites, then breadcrumbs and brown.
Cauliflower Puree
Heat butter in a pan, add garlic and cauliflower. Take off heat once cooked through. Allow to cool and puree in a blender with milk.
Honey Glazed Pumpkin
Glaze pumpkin chunks with melted butter and honey. Bake until golden and sticky.
Lamb Jus
In a stockpot gently fry the onions, celery and tomatoes until lightly browned in colour, stirring continuously.
Add the bones and trimmings with water and bring up to a boil, reduce the heat and gently simmer for 4 – 5 hours. Skim off any scum or fat that rises to the surface.
Once cooled, pass the stock through a fine sieve and over a moderate heat, slowly reduce the stock. Add flour to gain consistency.
The range of Dilmah Tea used
Dilmah Silver Jubilee Gourmet
The variety of Dilmah Tea used in the recipe
Silver Jubilee Moroccan Mint Green Tea
Created by : Lloyd Aleta