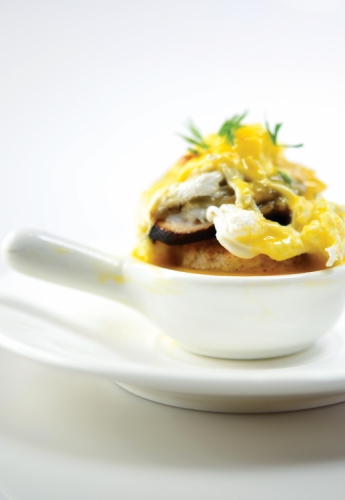 Food : Main Courses
TEA INSPIRED EGGS BENEDICT
IngredientsTEA INSPIRED EGGS BENEDICT
4 nos egg white
4 nos English muffins
100g Dilmah English Breakfast tea.
100g smoked chicken
4 nos tortellini
Hollandaise sauce
2 nos egg yolk
20ml vinegar
2 nos shallot
5g pepper
50ml clarified butter
MethodTEA INSPIRED EGGS BENEDICT
Prepare Hollandaise and set aside.
Infuse the tortellini with tea.
Poach the eggs.
Now stack the poached egg on the English muffin with the smoked chicken and tortellini.
Finish with hollandaise.
Hollandaise sauce
Boil the vinegar together with pepper and shallots.
Boil a large pan of water, then reduce to a simmer.
Beat together the egg yolks and reduced vinegar in a heatproof bowl that fits snugly over the pan.
Beat vigorously until the mixture forms a foam- take off heat.
Whisk in the butter and return to heat. Take off heat once the butter is fully incorporated.
The range of Dilmah Tea used
Dilmah Gourmet Tea Selection
The variety of Dilmah Tea used in the recipe
Created by : Soraiya Mareena Dole