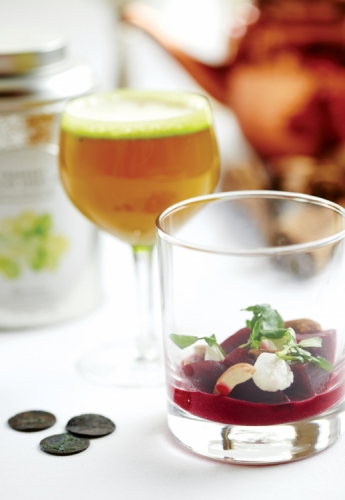 Food : Main Courses
SWEET & SOUR RED BEETROOT
Ingredients
Sweet And Sour

Marinated Beetroot
• 200g Natural vinegar
• 100ml Water
• 100g Sugar
• 2 pieces Beetroot
• 500g Beetroot
• 50g Butter
• ½ piece Shallot
• 20ml Sherry Vinegar
• 50g Sugar
• 200g Chicken Stock
• Salt
Method
Sweet And Sour

Marinated Beetroot
Boil the beetroot till it softens, peel it, and

divide into pieces. Bring the water, sugar

and vinegar to a boil. Let it cool and add the

beetroot. Vacuum reserve till use.
Cook the beetroot in the oven on sea salt. Melt

the butter, add the shallot and the beetroot.

Add the sugar and let it slightly caramelise.

Add the sherry vinegar and chicken stock and

let it reduce. Blitz the beetroot and strain, add

salt to flavour.
Created by : Joost Van der Hoven