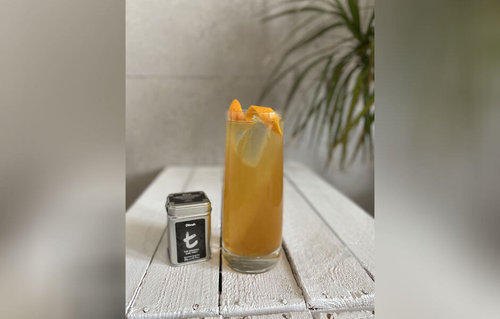 Drink : Cocktails
Sweet 70
Ingredients
30 ml Ceylon Arrack infused with Dilmah Earl Grey*
20 ml Cinnamon syrup*
20 ml Lime juice
top up (around 50 ml) of Champagne
Method
Shake or throw all ingredients without champagne. Strain over large block of ice to thin long glass (optionally flute). Top up with champagne, stir gently and garnish with orange zest.
*Arrack infusion - add one bag of Dilmah Earl Grey T Series for 250 ml. of Arrack. Keep in fridge for 2 hours. Take of the bag, strain through coffee filter if needed.
*Cinnamon syrup - 400 ml of water mix with 500 of sugar. Add two small cinnamon sticks (slightly crushed) and keep on a very low heat for 20 mins, stir from time to time. Strain. Cool down and its ready to use.
The range of Dilmah Tea used
Dilmah t-Series Designer Gourmet Teas
The variety of Dilmah Tea used in the recipe
t-Series The Original Earl Grey
Created by : Tomek Malek