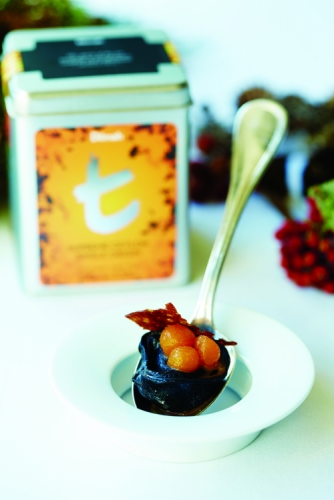 Food : Main Courses
SUPREME CEYLON CHOCOLATE TORTELLINI WITH APRICOT GEL PEARLS
Ingredients
250g flour

100g cocoa powder

30g icing sugar

4 eggs, whole

1-2 tbsp Water
200ml water

30g butter

30g sugar

1 tbsp Dilmah Supreme Ceylon Single Origin Tea
200g apricot purée

50g syrup 60%

1.8g agar-agar
MethodChocolate Pasta
Combine all ingredients, rest.

Roll out in the pasta machine onto setting 3. Cut into round shapes and stuff with tortellini filling.

Fold together and shape into tortellini. Cook in slightly sugared boiling water.
Bring everything to a boil, add the tea and let rest for 3 minutes.

Drain and use to glaze cooked tortellini.
Bring all ingredients to a boil together. Pour into container.

Cool down and scoop out pearls.
The range of Dilmah Tea used
Dilmah Gourmet Tea Selection
The variety of Dilmah Tea used in the recipe
Created by : Volker Marecek