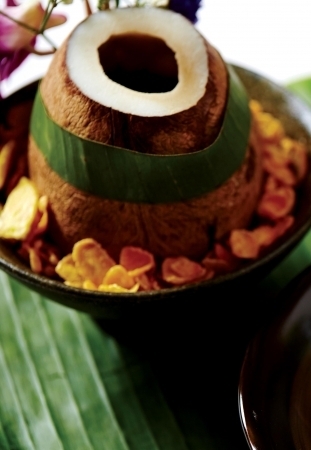 Food : Main Courses
SUMMER'S TREASURE
Ingredients
Banana leaves
10ml coconut oil
5 nos cloves
90ml perfectly brewed Dilmah Mango & Strawberry Tea (95°C for 4 1/2 minutes)
10ml banana syrup
Lemon zest
Method
Heat saucepan to warm.
Pour coconut oil into saucepan.
Add in 1 teaspoon of clove.
Add homemade banana leaf syrup.
Cook sous vide for 1 hour at 62°C
Pour perfectly brewed mango & strawberry tea into saucepan and continue to heat till warm.
Pour mixture into dry coconut shell (allow heat to open up flavours within coconut).
Add lemon zest to perfume it (outside of coconut shell).
Garnish bowl with cornflakes.
The range of Dilmah Tea used
Dilmah t-Series Designer Gourmet Teas
The variety of Dilmah Tea used in the recipe
t-Series Mango and Strawberry
Created by : Lee Zhang An