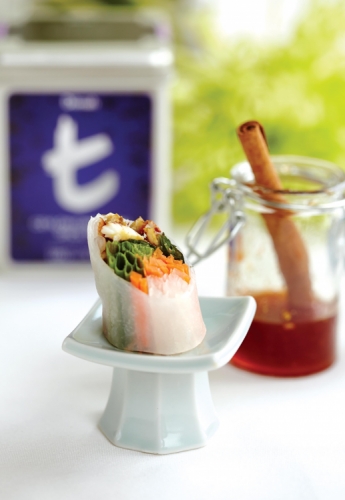 Food : Main Courses
SUMMER ROLL OF KING CRAB SERVED WITH CEYLON CINNAMON SPICE TEA
Ingredients
10 rice papers

100g king crab meat

20g lettuce

50g carrot

30g cucumber

10g sweet basil

Dilmah Ceylon Cinnamon Spice Tea, brewed
5g garlic

20g white sugar

100ml white vinegar

10g red chilli

50ml Dilmah Ceylon Cinnamon Spice Tea
Method
Julienne cut carrot and cucumber.

Tear lettuce and sweet basil into medium size pieces.

Marinate the king crab meat with Ceylon Cinnamon Spice Tea for 2 hours.

Soak rice paper and put on moist cloth.

Put carrot, cucumber, sweet basil and lettuce on the rice paper.

Put king crab on top, and roll tightly, cut like sushi.
Chop garlic and chilli.

Boil vinegar and sugar together with 15g Ceylon Cinnamon Spice tea.

Add chopped garlic and chili and simmer till syrup consistency is achieved.
The range of Dilmah Tea used
Dilmah t-Series Designer Gourmet Teas
The variety of Dilmah Tea used in the recipe
t-Series Ceylon Cinnamon Spice Tea
Created by : Cherdphong Sonkanok