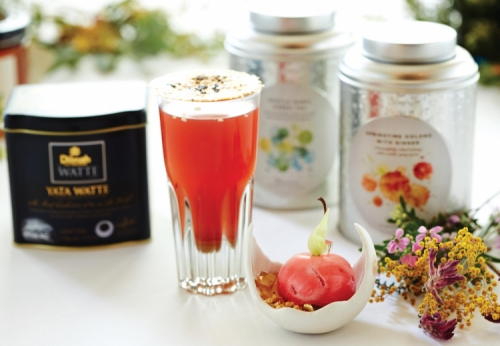 Drink : Mocktails/Iced Tea
SPRINGTIME OOLONG WITH GINGER & GENTLE MINTY GREEN TEA WITH YATA WATTE TEA SYRUP
Ingredients
2 parts Springtime Oolong with Ginger Tea (brewed with fresh spring water at 85 degrees)
1 part Gentle Minty Green Tea (brewed with fresh spring water at 85 degrees)
Rhubarb and Berries, as preferred
1tsp. Yata Watte Tea
Honey, as needed
Lemon Juice to taste
Sugar Sesame Wafer*
Method
Brew both Springtime Oolong with Ginger and Gentle Minty Green Tea together, according to your preference in strength.
Simmer rhubarb, berries, honey and Yata Watte tea until syrupy, then strain and add lemon juice to taste.
In a glass, pour the prepared rhubarb, berry, honey and Yata Watte tea syrup.
Top the glass with the sugar sesame wafer and pour the prepared hot tea through the wafer.
* Prepare the sugar sesame wafer by bringing sugar to soft ball consistency and adding the black and white sesame seeds. Pour over a baking sheet and allow to cool. Cut or break to the desired size to fit over your glass.
The range of Dilmah Tea used
Vivid Tea Selection by Dilmah
The variety of Dilmah Tea used in the recipe
t-Series Single Estate Oolong Leaf Tea
Created by : Ian Jones