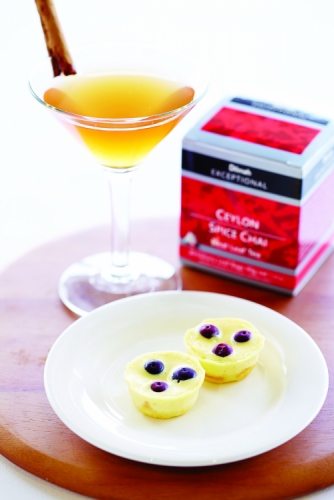 Drink : Cocktails
SPICE CHAI MARTINI
Ingredients
60ml locally brewed vodka (Stanmore NSW) infused with chai aromatics
1 tea bag Dilmah Spice Chai
2 scoops ice
Cinnamon quill
Pinch of salt
Method
Use 1 tea bag of Spice Chai per person, brew a pot of tea.
Allow 1 hour for tea to cool down, then chill.
Take 30ml chilled Chai Tea, 60ml Chai infused vodka, 2 scoops of ice and shake well.
Double strain into a martini glass and garnish with a cinnamon quill.
Note
Infuse vodka with clove, vanilla bean, Tasmanian bush peppercorns, cardamom and ginger. Leave it to infuse for 1 week.
The range of Dilmah Tea used
The variety of Dilmah Tea used in the recipe
Exceptional Ceylon Spice Chai
Created by : Derek Lai