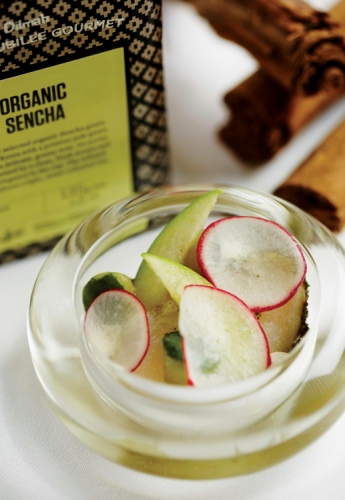 Food : Main Courses
SLOW COOKED-CODFISH AND GREEN SENCHA
IngredientsGreen Tea Granite
400ml Water
8g Dilmah Green Sencha
2g Salt
100g Cucumber Juice
½ Piece Lime Juice
Green Tea Marinade
200ml Water
50g Sugar
50g Natural Vinegar
8g Sencha Green Tea
Lime Creme Fraiche
100g Crème Fraiche
½ piece of Lime Zest
Salt
Green Tea Oil
400g Sunflower Seed Oil
20g Sencha Green tea
Slow-Cooked Codfish
200g Codfish
2g Salt
4g Sencha Green Tea
MethodGreen Tea Granite
Bring the water and salt to a boil, infuse the Sencha Green tea for 5 minutes. Add the other ingredients and mix well. Freeze overnight.
Green Tea Marinade
Bring all the liquids to a boil and infuse the Sencha Green Tea. Let it cool. Use this marinade to infuse the cucumber slices.
Lime Creme Fraiche
Green Tea Oil
Mix everything together, vacuum and let it infuse for 24 hours at 50C. Use this oil to slow cook the codfish in.
Slow-Cooked Codfish
Roll the fish through the salt, let it stand for 2 hours and wash the fish. Then roll it through the green tea and let it marinate overnight. Cook the fish at 52°C in green tea oil.
The range of Dilmah Tea used
Natural Green Tea Selection
The variety of Dilmah Tea used in the recipe
Created by : Joost Van der Hoven