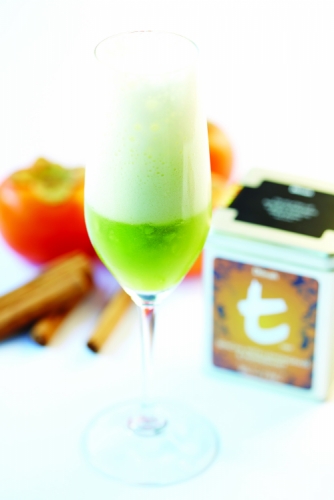 Drink : Mocktails/Iced Tea
SENCHA REFRESHER
Ingredients
1L spring water at room temperature

5 tsp Dilmah t-Series Sencha with Lemongrass and Peppermint
1 teabag Dilmah Exceptional Natural Lemon Verbena

½ cup boiling water

½ cup castor sugar
225g strained cucumber purée

2 tsp yuzu juice

2 flakes Murray River salt
MethodCold Brew Tea Soda
Add tea to water and allow to brew in the fridge for 10 hours.

Strain tea and pour into a soda Siphon. Charge the Siphon with CO2 gas and keep cold.
Make a strong infusion by steeping teabag in water for 5 minutes.

Add sugar and stir to dissolve. Allow to cool.
Verbena and Cucumber Sorbet
Add syrup to juice and mix.

Pour into cryonitro bowl and pour in a good amount of liquid nitrogen to start as you begin to cool the cucumber liquid while gently whisking at first, then more and more vigorously as it starts to thicken.

Freeze.
Place a scoop of sorbet into a champagne glass and top up with Sencha soda.
The range of Dilmah Tea used
Dilmah t-Series Designer Gourmet Teas
Dilmah Exceptionals
The variety of Dilmah Tea used in the recipe
Exceptional Natural Lemon Verbena
Created by : Benjamin Mardle