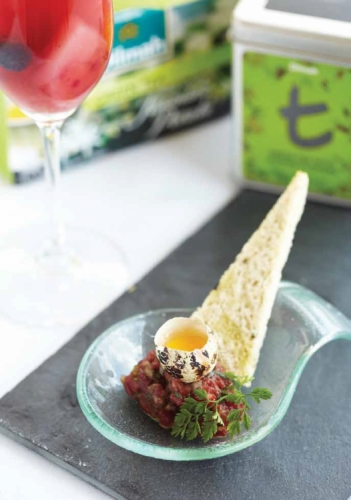 Food : Appetisers
Schott lander's Wagyu tartare and Green Tea with Jasmine Flowers crisp
Ingredients
250g diced wagyu meat (neck)

Small Spanish onion

1 tsp capers

1 garlic clove

1 anchovy

Olive oil

Chopped parsley

5 quail eggs

1 tsp Dijon mustard

1 tsp Worcestershire sauce
10g Dilmah t-Series Green Tea with

Jasmine Flowers

1.7kg baker's flour

10g salt

Pinch of sugar

40g yeast

1/2 litre brewed Dilmah t-Series Green

Tea with Jasmine Flowers tea,

cooled

1/2 litre water, room temperature

50ml olive oil
Method
Mix all ingredients together. Serve 250g diced wagyu meat (neck) with quail egg yolk on top.
Brew Dilmah t-Series Green Tea with Jasmine Flowers

and leave aside till cooled down.

Mix all ingredients in dough mixer and mix for 25 minutes.

Put into tin loafs and let improve for 45 minutes in warm

area (cover with wet cloth to maintain moisture).

Bake at 180°C for 12 minutes.
The range of Dilmah Tea used
Dilmah t-Series Designer Gourmet Teas
The variety of Dilmah Tea used in the recipe
t-Series Green Tea with Jasmine Flowers