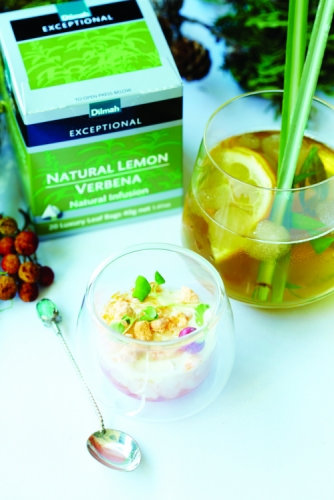 Food : Main Courses
SCAMPI TARTAR WITH SMOKED CRÈME FRAICHE AND SCAMPI SAND
Ingredients
40g scampi
30g tomato
5g sweet white vinegar
20ml mirin
20g lemongrass, roughly chopped
10g lemongrass, finely chopped
10g salmon caviar
5ml Ponzu
15g crème fraiche
10g scampi oil
20g Malto Dextrin
1 micro radish
1 microgreens
Method
Peel and blanch scampi in sous-vide at 60C for 10 minutes. Cool and chop into brunoise, mix with finely chopped lemongrass and conserve cold.
Blanch and peel concasse (fine) tomatoes, mix with vinegar and conserve.
Warm Mirin and 10g roughly chopped lemongrass, cold Ponzu and marinate salmon caviar for 30 minutes.
Manuka smoke crème fraiche in sous-vide bag using a smoke gun.
Mix scampi oil with Malto Dextrin and conserve dry.
Trim micro radish and pick microgreens.
Created by : Volker Marecek