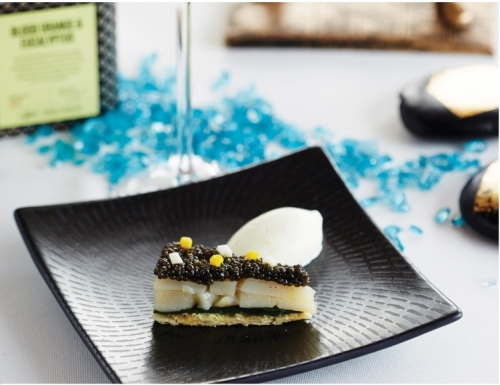 Food : Main Courses
SCALLOP AND SPINACH WITH OSCIETRA CAVIAR AND LEMON CREAM
Ingredients
• 100g Puff Pastry
• 8 Pcs Scallops
• 100g Spinach Leaves
• Salt and Pepper
• 20cl Cream
• ½ bunch Chives
• 50g Caviar
• 1 dash Lemon Juice
• Gold Leaf
Method
Place the puff pastry sheet on a baking sheet

lined with parchment paper. Preheat oven to

160°C and bake it for 18 minutes.

Cut the scallops to 5mm thick pieces, spread the sliced scallops on a parchment paper and

tighten them, season with salt and pepper.

Place the scallops in the freezer for a few

minutes, then cut them into triangles of 6cm

long and 3cm wide.

On a stainless steel plate covered with plastic

film, spread the spinach leaves. Cover with

another layer of film and put the plate in a

steam oven at 85°C for 3 minutes to blanch the

leaves.

Allow the leaves to cool down, place on the puff

pastry.

Place the scallops and garnish onto the puff

pastry.
Created by : Ng Wai Kee