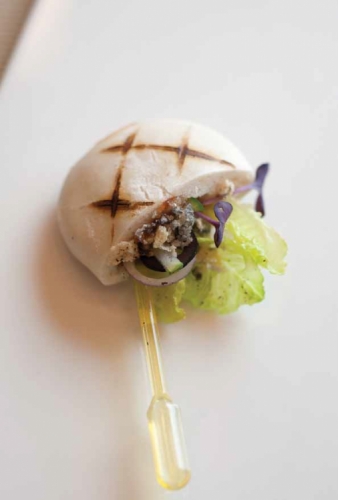 Food : Appetisers
Salmon in pita
Ingredients
9 Dilmah Lemon tea bags

600ml water

92g sugar

7g agar
300g smoked salmon, diced

30ml sour cream

3g dill

10g shallot, finely chopped

1 lemon zest
MethodLemon tea jam
Boil water and add in the lemon tea.

Steep for 6 minutes and remove the tea bags. Stir in the

sugar and cool.

Add in the agar, let it warm for 30 minutes, stirring once in

a while. Cool in fridge.

Use a thermomix, blend till gel-like.
Clean the skin of the salmon. Put on silicon paper and

dehydrate for 6 hours.

Deep fry at 180°C. Store in air-tight container. Use when

needed.
Put the salmon tartare at the bottom of the pita. Top with

lemon tea jam. Garnish with daikon and shiso cress, romaine

hearts, cucumber and deep fried salmon skin.
The range of Dilmah Tea used
The variety of Dilmah Tea used in the recipe