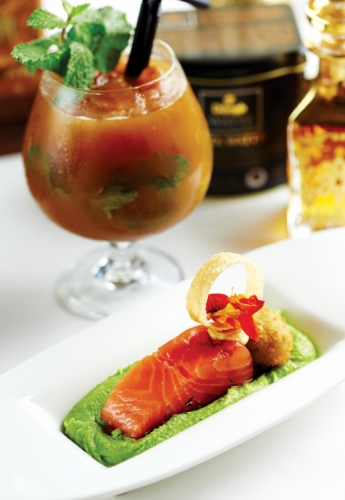 Food : Main Courses
SALMON CONFIT WITH BREADED CRABMEAT AND PUREE OF PEAS
IngredientsIngredients for Salmon Confit
140g Norwegian Salmon
1tsp. Peppercorns
100ml Olive Oil
1 Sprig Thyme
2tsp. Juniper Berries
30g Garlic Cloves
Ingredients for Peas Puree
100g Green peas
125g Whipping Cream
20g Butter
10g Onion, chopped
Ingredients for Breaded Crabmeat
140g Crabmeat
1g Lemon grass Powder
20g Mayonnaise
1g Coriander
20g Flour
Breadcrumbs
Egg mixture for batter
Method
Confit the salmon after marinating it with the other ingredients for a few hours.
Puree the ingredients for the pea puree and refrigerate.
Mix together all ingredients with the crabmeat, shape into balls, roll in egg mixture and breadcrumbs and deep-fry until golden brown.
Serve all components of the dish together.
Created by : Lloyd Aleta