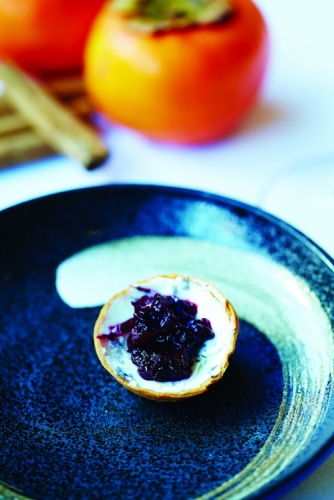 Food : Appetisers
SAGE GOAT'S FETA AND BLACKBERRY RED ONION JAM TARTLET
IngredientsSage Goat's Cheese
250g marinated goat's feta
1 ½ tbsp finely chopped sage leaves
Blackberry Red Onion Jam
200g red onion, thinly sliced lengthwise
300g blackberries, frozen
2 juniper berries, crushed and ground
½ cup castor sugar
½ cup white wine vinegar
½ cup white wine
Pastry Tart Cases
Spring roll pastry
Egg wash
MethodSage Goat Cheese
Mix together to a paste and set aside. Serve at room temperature.
Blackberry Red Onion Jam
Place all the ingredients in a sauce pan and gently simmer to reduce.
Reduce till you have about 1/3 of the original liquid and it has turned slightly syrupy. Chill till needed.
Pastry Tart Cases
Brush spring roll pastry with egg wash, place another pastry round and cook in a mini muffin tin at 180°C for about 78 minutes or until crisp and golden.
Created by : Benjamin Mardle