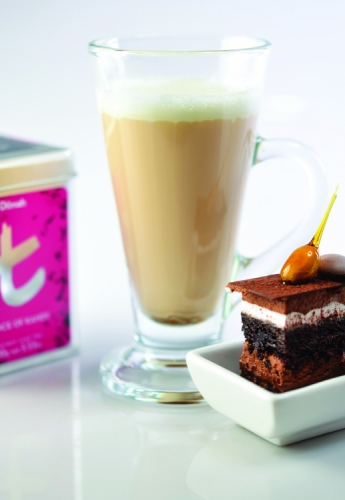 Drink : Mocktails/Iced Tea
ROYAL SPICE
Ingredients
130ml Dilmah t-Series Prince of Kandy, brewed

1g sliced ginger

2 tsp condensed milk

Double cream

Grated jaggery to garnish
Method
Brew the tea using boiling water for five minutes for a strong brew.

Muddle cardamom and ginger in a stainless steel mug.

Add condensed milk into another stainless steel mug.

Strain the brewed hot tea in to the first mug.

Pull the tea from mug to mug 3-4 times.

Serve in to the glass.

Add in the double cream to form a layer on top.

Garnish with jaggery and serve.
The range of Dilmah Tea used
Dilmah t-Series Designer Gourmet Teas
The variety of Dilmah Tea used in the recipe
Created by : Soraiya Mareena Dole