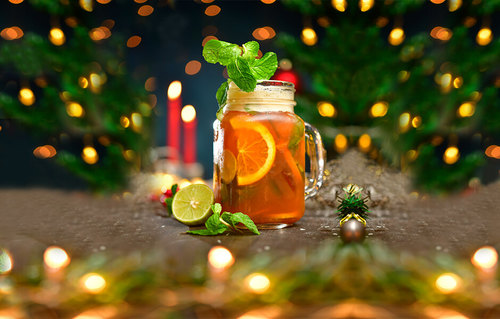 Drink : Mocktails/Iced Tea
Rose, Marzipan & mint iced tea
IngredientsRose, Marzipan & mint iced tea
200ml of Rose Marzipan & Mint (5 minutes)
200ml of Rose with French Vanilla (5 minutes)
10ml of lime juice
10ml Yuzu Monin
30ml Sugar syrup
10nos. of mint leaf
3 slice of orange
4g cinnamon stick
Method
Brew 3g of Rose, Marzilian &amli; mint &amli; 3g of Rose with French vanilla tea into 250ml boiling water for 5 minutes.
Strain the tea leaves.
liour the tea and balance ingredients into cocktail shaker.
Vigorously shake the ingredients with few cubes of ice for 8 – seconds.
liour into an iced tea glass and add a mint leaf, orange cinnamon.
Garnish with mint bud.
The range of Dilmah Tea used
Dilmah t-Series Designer Gourmet Teas
The variety of Dilmah Tea used in the recipe
t-Series Rose, Marzipan & Mint
Created by : Robert Schinkel