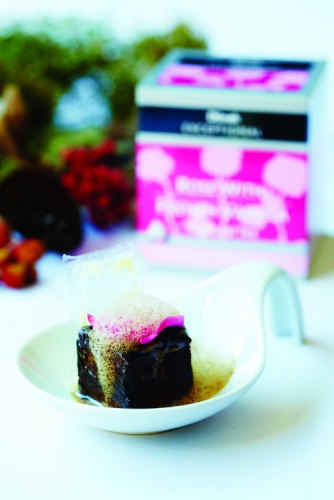 Food : Main Courses
ROSE AND FRENCH VANILLA BLACK ANGUS SHORT RIB
Ingredients
2 ¾ cups water
¼ cup each of apple and pear juice
2 ½ tablespoons mirin,
½ cup Dilmah Rose with French Vanilla Tea
1 tbsp sesame oil
1 ¼ cups sugar
10 seeds black pepper
½ small onion
1 small carrot
3 spring onions (white part only)
2 garlic cloves
Vanilla and Rose Shampoo
400ml Dilmah Rose with French Vanilla Tea
4g lecithin
Bone Marrow Ravioli
8 leaves of potato starch wafer
90g bone morrow
Method
Bring everything to a boil and simmer for 10 minutes. Strain out the solids and reserve.
Vacuum short ribs in the marinade with some extra chopped apple and pear. Cook at 60C for 48 hours.
Shock in ice water. Remove braise and fruit and reduce to a glaze.
Chop the beef into cubes.
Deep fry at 180C for 4 or so minutes to get a deep mahogany coating and to warm through, drain well on paper towels and into the pan with the glaze.
Vanilla and Rose Shampoo
Add all the lecithin to the tea. Blend with hand mixer until completely combined and bubbles form on top.
Bone Marrow Ravioli
Take one leaf of the potato starch wafer, and put approx. 20g of bone marrow in the middle for the filling of the ravioli.
Put another wafer on top and close with hot iron to completely seal the bone marrow inside the ravioli starch paper.
The range of Dilmah Tea used
The variety of Dilmah Tea used in the recipe
Exceptional Rose With French Vanilla
Created by : Volker Marecek