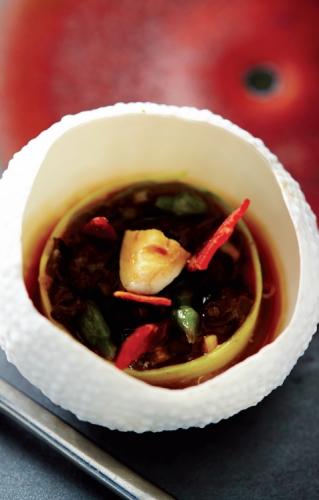 Food : Main Courses
ROLLED SEASON'S ASPARAGUS, MOREL TARTARE, QUAIL EGG AND RAW HAM CHIPS
IngredientsRolled Asparagus
3 nos. Asparagus
100ml Olive Oil
Morel Tartare
3 nos. Asparagus
10g Morel
50g Shallots
Brown Juice
Quail Egg
Raw Ham Chips
MethodRolled Asparagus
Cut the Asparagus with the mandoline.
Add some olive oil and salt.
Put in the fridge and film the asparagus.
Morel Tartare
Cut the rest of the asparagus in very small brunoise.
Slice the shallots finely.
In a pan, sauté the shallots and add the morels.
Deglaze with morel juice.
Reduce the mixture and add the veal stock.
Cut the mushrooms into small brunoise.
In a bowl, mix the Tartare asparagus and morels
Quail Egg
Cook the eggs for 1 minute and 30 seconds.
Raw Ham Chips
Bake the ham chips between two greaseproof paper slices at 180 ° C for 10min .
Created by : Pierre Jean Arpurt