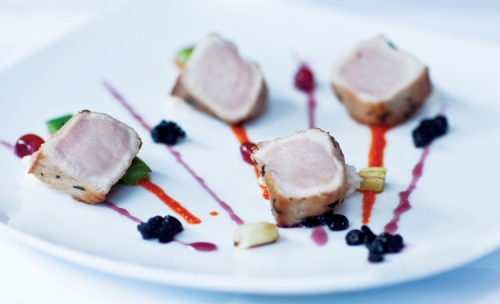 Food : Main Courses
Roasted Pork Loin with Jasmine Tea Sticky Rice and Cherry Salsa
IngredientsVenison Loin
540g Venison loin
Salt to taste
3g Pepper
3g Thyme
3g Rosemary
Jasmine Tea Sticky Rice
10g Dilmah Green Tea with Jasmine Petals
500ml Water
250g Jasmine rice
2 tablespoons Olive oil (extra virgin)
80g Onion
20g Shimeji mushroom
Cherry Salsa
50g Assorted cherries
150ml Maple syrup
MethodVenison Loin
Marinate the venison loin with all the above ingredients.
Sear the venison on hot pan then place it in a pre heated oven at 230 degrees for 8-10 minutes. Remove and let the venison rest for 4 minutes.
Slice the venison and arrange it over the jasmine sticky rice. Spread the sauce on the plate along with the cherries.
Jasmine Tea Sticky Rice
Bring water to a boil and steep the jasmine tea leaves for 4-5 minutes. Strain and mix it with rice and salt, and cook the rice with the tea infusion till it is soft and sticky. Combine the rice with sautéed shimeji mushrooms.
Cherry Salsa
Boil the assorted cherries in maple syrup till they are soft. Remove the cherries and boil the syrup till it becomes thick like a sauce, cool it and add the cherries.
The range of Dilmah Tea used
Natural Green Tea Selection
The variety of Dilmah Tea used in the recipe
Green Tea with Jasmine Petals
Created by : Shahid Latif