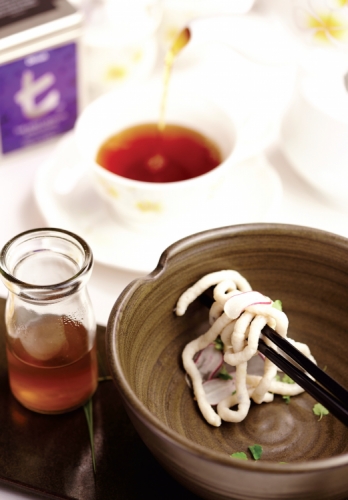 Food : Appetisers
RED SNAPPER UDON WITH LIQUORICE FLAVORED DASHI AND ATSINA
Ingredients
250g red snapper, skin off, boneless
1 tbsp cornstarch
1 tsp sesame oil
5g garlic, grated
5g ginger, grated
1 tbsp cream
2x10 cm konbu seaweed
2 handful katsuobushi
1 tsp liquorice powder
Red radish
1 punnet Atsina cress
Method
In the Robot-Coupe, blend the fish with cornstarch, garlic, ginger, sesame oil, salt and pepper. Put the mix in a piping bag and set aside till required.
To make the dashi, bring 1 litre of water to the boil, add the konbu pieces and cook for 5 minutes.
Then add the katsuobushi and take it off the boil. Allow to infuse then strain.
Add liquorice powder to taste.
To serve, put the fish noodle in a bowl and pour hot dashi on top and use some Atsina and radish slices for garnish.
Created by : Brouck Jean-Francois