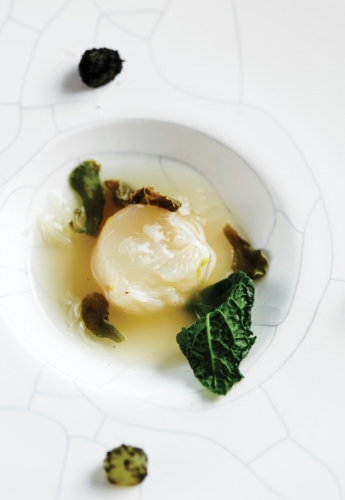 Food : Main Courses
RAW NEW ZEALAND SCAMPI WITH TEA-INFUSED MELON AND PICKLED OOLONG TEA LEAVES
IngredientsTea-Infused Melon Juice
125ml freshly juiced, skimmed and strained Honeydew Melon Juice
10ml Strained Lime Juice
40ml Oolong & Ginger Tea
5ml White Wine Vinegar
Salt
New Zealand Scampi
10 Raw Fresh Scampi, peeled and de-veined
Salt
1 Lime
Pickled Oolong Tea Leaves
25 Leaves of Cooked Oolong Tea
1g Finely Grated Ginger
Salt
Sugar
Juice of 1 Lime
MethodTea-Infused Melon Juice
Pass melon juice through a cheese cloth into a bowl. Add the lime juice, tea, vinegar and a little salt. Refrigerate until use.
New Zealand Scampi
Season the scampi just before serving with salt.Using a fine blade microplane, grate the lime zest over each scampi until covered. Finish with a few drops of lime juice.
Pickled Oolong Tea Leaves
Mix the lime juice and ginger, season with sugar and salt to your taste. Pour the mixture over the tea leaves and let it pickle for 2 hours.
The range of Dilmah Tea used
Vivid Tea Selection by Dilmah
The variety of Dilmah Tea used in the recipe
Vivid Springtime Oolong with Ginger
Created by : Volker Marecek