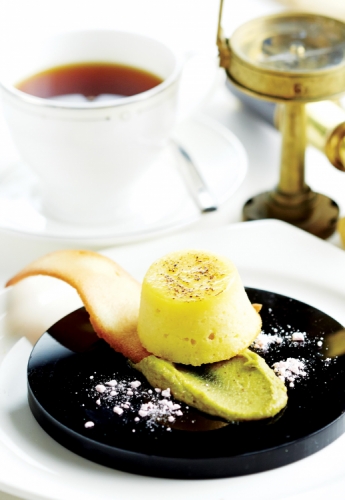 Food : Main Courses
QUINDIM
IngredientsSabayon
250g Pistachio
400ml Cream
100ml Milk
45g Sugar
Vanilla Pod
Meringue Sticks
250ml Egg Whites
500g Icing Sugar
10ml Rose Syrup
Ingredients
5 Egg Yolks
1 Egg White
80g Desiccated Coconut
100ml Coconut Milk
60g Sugar
1 pod Vanilla
Butter 20g
15ml Cointreau
Method
Preheat the oven to 140°C.
In a large bowl, mix all the ingredients together using a wooden spoon.
Pour into 16 mini-muffin moulds that have been greased with butter (or a 6 inch -15 cm greased ring mould pan) and sprinkled with sugar on the bottom and on the sides.
Bake for 20 - 25 minutes, or until an inserted toothpick comes out clean.
Remove from the oven and let the cakes cool on a rack. Place a plate over the baking pan and invert the warm custard on a plate (It is very important not to unmould the custard while hot, because it will break, or cold, because it will not leave the pan easily). Run a small metallic icing spatula around the edges to unmould the custard, if necessary.
Let it cool down completely and refrigerate for three hours.
Serve with pistachio sabayon and meringue sticks.
Created by : Alpesh Dias