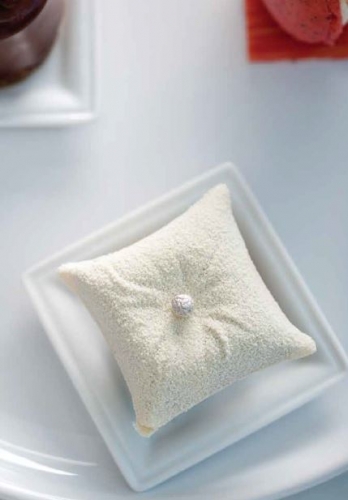 Food : Appetisers
Poached Pear & Cinnamon Spice Tea Sponge
Ingredients
150g water

150g honey

67.5g sugar

93g butter

6g lemon zest

6g lime zest

150g flour type 55

12g cinnamon tea

9g sodium bicarbonate

1g salt
250g sugar

375g water

4 pears

3g cinnamon
125g cream

125g milk

50g yolk

25g sugar

117.5g Jivara milk

7g Earl Grey
250g ivory chocolate

250g cocoa butter

5g titanium oxide
MethodCinnamon sponge
Mix water, honey, sugar and butter together and infuse for

24 hours.

Mix with rest of the ingredients and bake at 160°C for

15 minutes.
For poached pear, vacuum pack the pears in syrup for

48 hours.
Make custard sauce with cream, milk, yolk and sugar.

Pour over the chocolate mix and blend.

Keep it in chiller for 4 hours.