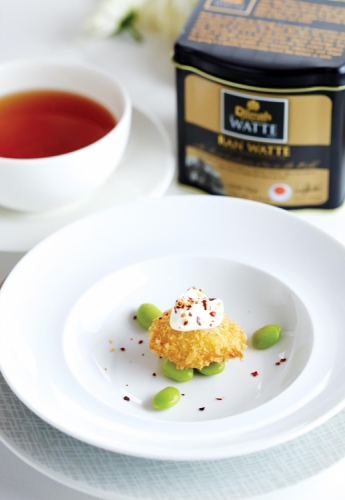 Food : Main Courses
PINK AND GOLD SCALLOPS
Ingredients
• 400g Scallops, frozen
• 20g Flour
• 50g Eggs
• 50g Panko
• 200g Canola Oil
• 100g Edamame, cooked
• 100g Cream
• 10g Ginger, peeled and sliced
• 5g Sea Salt
• 5g Pink Peppercorns, dried
• 10g Edible Flowers
Method
Season scallops with a little salt and white 

pepper, dust with flour, turn around in the egg 

mix and then breadcrumbs.

Place the cream and ginger in a sauce pan 

and heat on medium heat, simmer for a few 

minutes. Season with sea salt and strain 

through a fine sieve, place back in sauce pan 

and whip with milk foamer.

Deep fry the scallops in hot canola oil until 

golden, remove and place on kitchen paper to 

drain off excess oil

Arrange all components on plates and garnish 

with freshly ground pink pepper and edible 

flowers.
Created by : Arie Yulianto