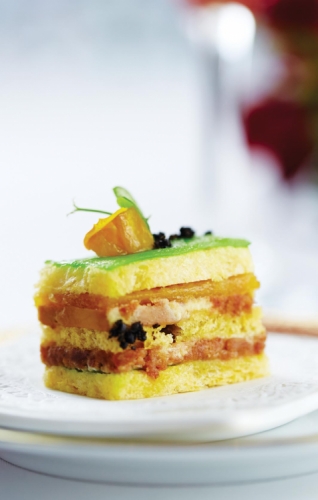 Food : Main Courses
PICKLED CUCUMBER WITH DUCK & FOIE GRAS ON AN APRICOT SANDWICH
Ingredients
10 Pickled Cucumber Slices
Gourmet Bread of your choice
Foie Gras & Duck Terrine
825g Duck Meat
175g Foie Gras
50ml Cognac
100ml Port
14g Salt
6g Pepper, white
4g Sugar
100g Sautéed Onions
Whipped Butter
Apricot Chutney
100g Apricot
20g Sugar
2g Orange Zest
50ml Orange Juice
MethodFoie Gras & Duck Terrine
Add water and boil in a pan over medium heat.When it starts to boil, add butter, sugar and salt.
When the Butter starts melting add the flour and mix well. Take pan off the heat, cool to room temperature and transfer mixture into a mixer.
Gradually add the eggs one by one and mix well till it forms a smooth paste.
Pipe to circles, place crunchy paste on top* and bake at 200°C for 30 minutes.
Apricot Chutney
Cook all the ingredients until the mixture thickens. Let it cool.
Created by : Buddika Samarasekera