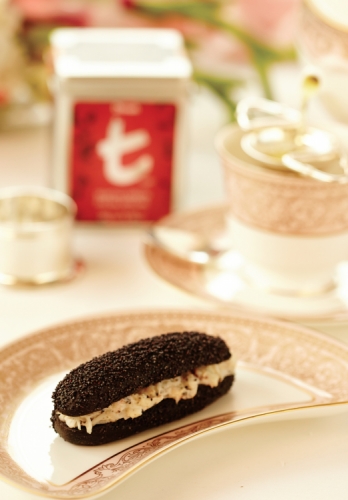 Food : Main Courses
PHUKET MUD CRAB & NORI SANDWICH ON SQUID INK & POPPY SEED BREAD
IngredientsFilling
1 pc Phuket mud crab
20g mayonnaise
1 sheet of dried nori seaweed
1/2 lime, juiced
Salt and pepper to taste
Soft Roll Dough
500g bread flour
50g sugar
50g butter
5g salt
5g milk powder
1 whole egg
250ml water
20g yeast
1g squid ink powder
MethodFillin
For the filling, first you will need to steam the mud crab for 8-10 minutes depending on the size.
Once cooked, allow to cool and then carefully pick the crab meat.
In a small bowl combine all the ingredients adding salt and pepper to taste
Soft Roll Dough
Put all the items in a mixing bowl and then knead the dough for 3 minutes on slow speed and for 8 minutes on fast. Give the dough 20 minutes to rest.
Divide the dough into 20g pieces and shape like a baguette. Let it proof until double in volume.
Brush with water and sprinkle poppy seed on top.
Bake at 200°C for 8 minutes.
Created by : Reinolf Moessl