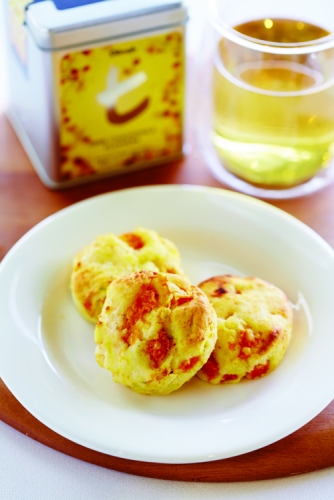 Food : Main Courses
PERSIAN FETA & PUMPKIN SCONES
Ingredients
22g butter
12g castor sugar
½ cup cooked diced pumpkin
90g self-rising flour
Pinch of salt
60g milk
100g Persian feta, diced
Method
Preheat oven 220°C/200°C (fan forced) and line a baking tray with baking paper.
Stir together butter, sugar, salt, flour until combined.
Add pumpkin and feta cheese.
Add milk and mix until just combined.
Place dough onto a floured surface and knead lightly. Roll or pat dough out to approximately 2cm thick.
Cut scones out using a 4cm cookie cutter and place onto tray.
Brush tops of scones lightly with a little milk.
Bake for 12-15 minutes or until golden brown.
Created by : Derek Lai