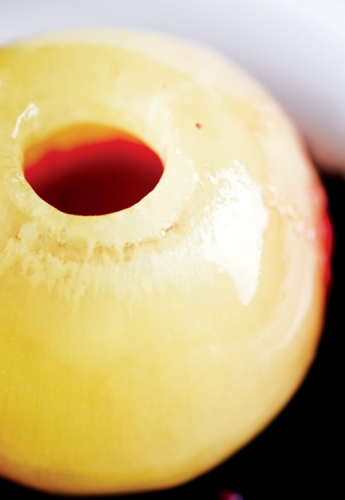 Food : Appetisers
PEAS AND STRAWBERRIES
Ingredients
• 0.40kg Flour
• 0.15kg Butter
• 0.04kg Fécule
• 0.1kg Almond Powder
• 0.25kg Icing Sugar
• 0.1kg Eggs
• 800ml Water
• 400g Peas
• 115g Sugar
• 8g Gelatin
• 114g Whipped Cream
• 57g Egg Whites
• 215ml Strawberry Juice
• 45g Sugar
• 10g Fécule
• 70g Gelatin• 25ml Lime juice
• 25g Grand Marnier
• 375g Strawberries, hulled and sliced
MethodSablé
Soften the butter. Add your eggs. Finish

by adding all other ingredients and mixing

through. Bake at 150°C.
Cook peas with water and sugar until mushy.

Blend it and add gelatin. Let it cool and add

egg whites and whipped cream. Keep under

refrigeration
Make strawberry juice warm on a stove. Add

sugar, fecule and gelatin and boil for one

minute. Take off heat and add the Lime Juice

and Grand Marnier. Let cool and finally add

the strawberries.
Created by : Pierre Jean Arpurt