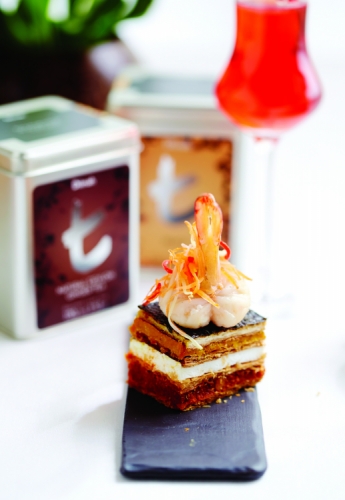 Drink : Mocktails/Iced Tea
PEACH HALIA COOLER
Ingredients
90ml Dilmah Peach Tea

90ml Natural Ceylon Ginger Tea

400ml natural spring water

90ml apple juice

15ml grenadine syrup

4 demi tasse spoons raw sugar
Method
To make the tea, brew 8g each of the teas in 400ml water for 3 minutes and strain. Stir.

Mix apple juice, grenadine syrup, raw sugar and set aside.

Mix the two Dilmah teas.

Place everything in a cocktail shaker with about 8 cubes of ice. Shake using a cocktail shaker.

Serve chilled in a champagne flute.
The range of Dilmah Tea used
Dilmah t-Series Designer Gourmet Teas
The variety of Dilmah Tea used in the recipe
t-Series Natural Ceylon Ginger Tea
Created by : Suzana Usuldd