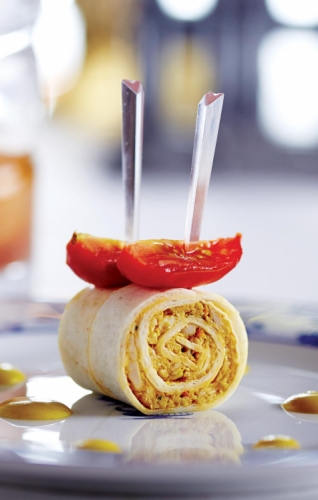 Food : Main Courses
PATIENCE
Ingredients
• 5g Turmeric Powder
• 2pcs Bayleaf
• 10g Whole Garlic
• 10g Salt
• 2g Salt
• 2g Sarawak Black Pepper
• 3g Paprika Powder
• 10g Cold Pressed Olive Oil
• 180g Corn-fed Chicken Thigh
• 200g Garlic
• 1000g Shallots
• 100g Fresh Ginger
• 2pcs Lemongrass
• 6pcs Bayleaf
• 500g Cold Pressed Olive Oil
• 200g Red Chilli
• 100g Turmeric Powder
• 50g Paprika Powder
• 200g Coconut Powder
• 200ml Coconut Milk
• 100ml Coconut Milk
• 8g Turmeric Powder
• 1g Gelespessa
Method
African Chicken Marinade
Combine all ingredients and marinate the

Corn fed chicken for ca. 30 minutes.

Heat the oven to 180°C. and bake for ca. 20-25

minutes. Check if the chicken is properly

cooked and remove from oven. Let cool and set

aside.
Cut the garlic, shallots, fresh ginger,

lemongrass, red chilli, in brunoises. Combine

with the olive oil, bay leaf and cook over low

heat for 4 hours.

Pour the coconut milk, turmeric-, paprika- and

coconut powder on top and blend to a paste. Set

aside.
Combine all ingredients with a hand blender

and set aside.
Created by : Kenny Chen