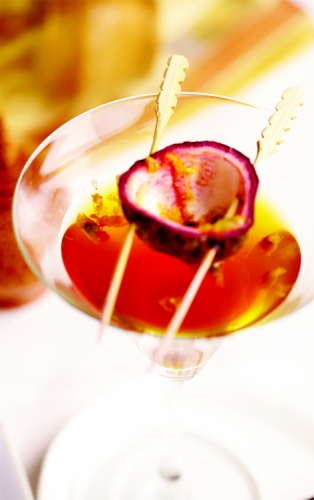 Drink : Mocktails/Iced Tea
PASSIONA-TEA
Ingredients
6oz Dilmah T-series Vanilla Ceylon hot tea, brewed to desired strength
1/2 oz homemade Dilmah Vanilla Ceylon Tea syrup
1/2 oz Monin Passion-fruit syrup
Fresh passion fruit
Method
Put 5-6 passion fruit seeds in the glass and muddle with home-made tea syrup.
Halve the fresh passion fruit, then with the fresh fruit inside skewer through with 2 chopsticks.
In a separate pot, infuse the Dilmah Vanilla Ceylon Tea for 3 minutes.
To serve, place the fresh passion fruit half over the martini glass with the help of the chopsticks. Either end of the chopsticks will sit on the rim on the glass.
Then add the syrup to it.
Pour hot tea in to the passion fruit, similar to a fountain.
The range of Dilmah Tea used
Dilmah t-Series Designer Gourmet Teas
The variety of Dilmah Tea used in the recipe
t-Series Vanilla Ceylon Tea
Created by : Brouck Jean-Francois