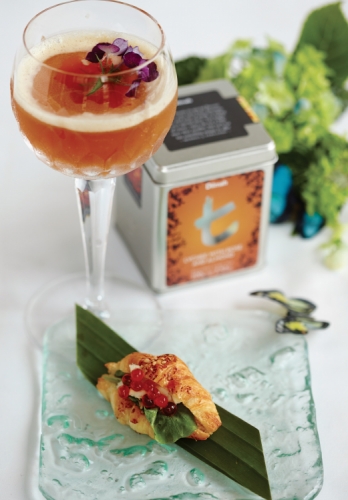 Food : Appetisers
PARMESAN CROISSANT WITH GAROUPA BRANDADE
IngredientsGaroupa Brandade
300g steamed Garoupa
300ml whipping cream
100g cooked potato
10 cloves fresh garlic
100ml olive oil
Salt and pepper, to taste
300g Garoupa Brandade
5 mini cheese croissants
10 rocket leaves
20g salmon roe
MethodGaroupa Brandade
Shred the steamed Garoupa and place aside.
Boil the potatoes until tender and strain before mashing until smooth.
Finely chop the garlic and add to the potato mixture.
In a heavy saucepan and over low heat, add the mashed potatoes, before adding the whipping cream and shredded Garoupa.
Add olive oil and season to taste.
Slice the croissant in half making sure the two pieces are still connected.
Place the rocket leaves inside the croissant.
Using a piping bag, add the Garoupa Branade on top of the rocket leaves.
Garnish on top with salmon roe.
Created by : Channarong Hongsatan