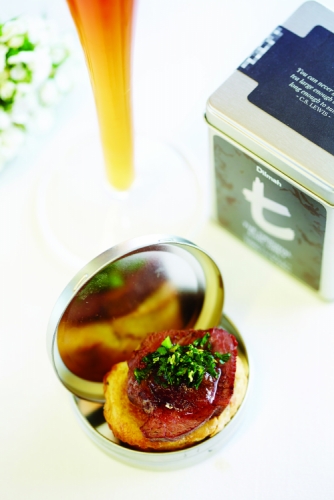 Food : Main Courses
PAN-FRIED KANGAROO ON A WATTLE SEED SCONE WITH GREMOLATA
IngredientsPan-Fried Kangaroo
Wattle Seed Scone
3 cups self-rising flour
Pinch of salt
1 cup cream
1 cup lemonade
30g wattle seed
Gremolata
1/2 cup chopped flat-leaf parsley
2 lemons, rind finely grated
1 tsp finely chopped garlic
MethodPan-Fried Kangaroo
Sear loin and cook to medium rare.
Place in fridge till needed.
Slice and serve.
Wattle Seed Scone 
Sift flour and salt into a large bowl. Make a well in the centre.
Add wattle seed to the cream and warm in microwave for 1 minute.
Pour in cream and lemonade.
Mix with a knife until mixture comes together. Turn dough onto a lightly-floured surface. Knead gently until smooth and pliable.
Cut scones into rounds using a scone cutter. Arrange close together on a lightly greased tray.
Bake at 220°C for 10 to 12 minutes or until golden.
Gremolata
Mix all ingredients and season.
Created by : Leigh Roberson