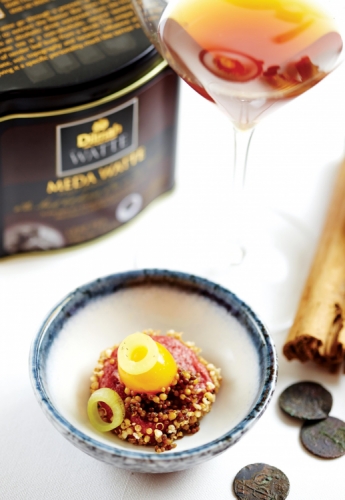 Food : Main Courses
OSSENWORST WITH A TWIST
Ingredients
• 100g Mustard Seeds
• 200ml White Wine Vinegar
• 50g Sugar
• Salt and Pepper
Quail Egg Yolk
• Quail Eggs, organically sourced
• 100g Quinoa
• 500ml Water
• 200g Sunflower Seed Oil
MethodMustard Seed Relish
Mix everything and let it marinade overnight.
Freeze the quail eggs overnight. Let them defrost

and break them open, separate the egg

yolk from the white. The yolk is now cooked.
Cook the quinoa until the seeds are open.

Strain them and wash them. Put the oven on

70°C and put the quinoa on baking paper.

Leave them in the oven till they are totally dry.

Heat the oil to 200°C, add the dried quinoa and

strain right away. It will puff due to the heat.
Created by : Joost Van der Hoven