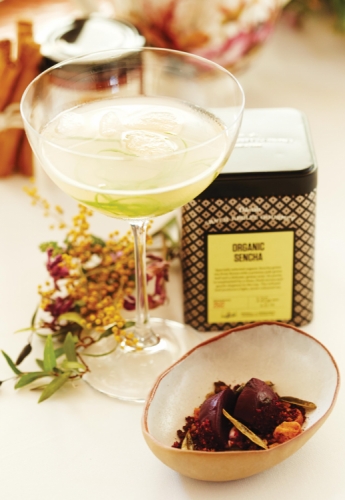 Drink : Mocktails/Iced Tea
ORGANIC SENCHA WITH SEAWEED AND CUCUMBER
Ingredients
• 
Organic Sencha Tea, cold infused (for at least 20 
minutes)
• Organic Sencha Tea, brewed hot
• Water seeped in Cucumber and Seaweed
Method
Prepare and brew a warm pot of organic 

Sencha with spring water heated to 80 

degrees. Allow cooling and add water seeped 

in cucumber and seaweed. Make ice cubes 

from this brewed tea.

To finish, place the ice cubes in a large cocktail 

glass and pour over the cold infused Organic 

Sencha.

Garnish with lime and cucumber. Serve 

chilled.
The range of Dilmah Tea used
Dilmah Silver Jubilee Gourmet
The variety of Dilmah Tea used in the recipe
Silver Jubilee Organic Sencha
Created by : Ian Jones